movisensXS - eXperience Sampling for Android is the next generation research tool for ambulatory assessment of subjective and objective data. It is designed to be easy to use but also powerful to meet the needs of the researchers from different fields.
The movisensXS app for android uses the study you designed online to trigger the forms you defined.
Prerequisite
You will need an Android 4 or later device to install movisensXS. For a recommendation, please view the FAQ.
Install movisensXS app
From your device's application drawer, choose Play Store.
Search for movisensXS and there should be one result from movisens GmbH.
Select that result and click the Install button. Click OK after viewing the security settings.
Warning!
Disable automatic updates for movisensXS. Updates may break your study in the field! Remove checkbox in the play store (see screenshot).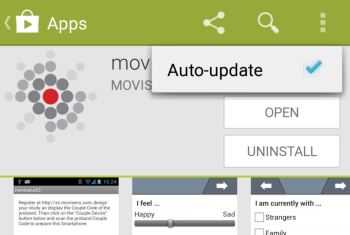 Configure Smartphone
Open the Settings
Wireless & networks

Depending on your study activate or deactivate WiFi and Bluetooth

Accounts

Add a Google account (This account can be the same on all your smartphones, but should be a dedicated account that is only used for this study where no mails arrive). This is necessary to send messages to the participant and download the app. Disable the Gmail sync to prevent mail notifications.

Location

Activate WiFi and GPS satellites if you want to acquire the location with movisensXS

Security

SIM card lock

Disable Lock SIM card. Otherwise the pin number is requested on each boot.
Prepare for a Lost or Stolen Device
If your participant loses a device during the study, the Android Device Manager can help you find, lock, and erase it. To use the Android Device Manager, you must use a google account to activate your devices and label your devices in the Android Device Manager. The full guide how to prepare the devices can be found here.
The smartphone app consists of configuration screens that are controlled by the study supervisor and the study screens that are controlled by the participant. The access to the configuration screen is locked by a pin code that is configured in your Study running block in the sampling of your study.
To start the study the following steps should be done:
movisensXS will appear in your application drawer. Select it to launch the application.
Select Couple Device and take a photo of the QR-code of a participant that is shown in the participant tab of your study.
After coupling is finished you can start the sampling by pressing Start Study.
The default home screen should appear.
Now you can put your device on standby and wait until your sampling scheme notifies you.
To stop the study the following steps should be done:
On the home screen press the "menu" button on your phone. Press the option Configure Study. You have to enter the pin code that is configured in your Study running block in the sampling of your study.
You can stop the study or upload the results when you have an internet connection.
---